Press Releases
GORILLA PICTURES, THE MARTIAL ARTS MUSEUM AND MARTIAL ARTS SHOW BIZ TV HAVE TEAMED UP TO FIND "THE NEXT MARTIAL ARTS ACTION HERO". A SPECIAL OPEN CASTING CALL TO BE HELD IN CONJUNCTION WITH THE JUNE 6TH THEATRICAL RELEASE OF "ARENA OF THE STREET FIGHTER" WILL BE HELD ON SUNDAY, JUNE 9TH.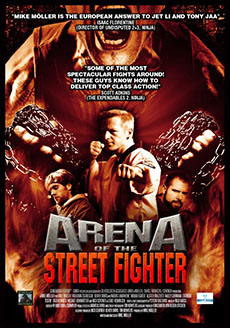 LOS ANGELES – MAY 15, 2013 – Gorilla Pictures, The Martial Arts History Museum and Martial Arts Show Biz TV have teamed up to promote the highly anticipated film "Arena of The Street Fighter", and to search for and find The Next Martial Arts Action Hero.
With the objective of bringing the world an on going series of high-impact martial arts action films, Gorilla Pictures and Martial Arts Show Biz TV present to martial artists and actors, an exciting opportunity to experience a new era of action movie Free of Charge and audition for an upcoming feature film. Gorilla Pictures suggests that interested parties please visit a Southern California theatrical exhibition of "Arena of The Street Fighter". At the theater ticket box office, just give them your name and mention "Gorilla Audition" and Gorilla Pictures will provide you with a Free Ticket at the box office, check local listings for times. Take note of the action roles portrayed in the film. Then on Sunday, June 9th visit the Martial Arts History Museum at 2319 W. Magnolia Blvd, Burbank, Ca for the Next Martial Arts Action Hero Auditions, and you could be selected for an appearance in an up coming Gorilla Pictures production. In fact, if you would like to attend the June 6th West Coast Premiere of "Arena of the Street Fighter" you can meet the film's star and Director Mike Möller, 11-time world kickboxing champion Don "The Dragon" Wilson, other celebrities and receive a free soda and popcorn; all free to attendees that plan to audition. The premiere will be held at 7:30PM at the Downtown Independent Theater. We look forward to seeing you at the movie and auditions.
While many accept the brutality of Gangs and join in, a few modern-day warriors fight back and chose to stand-alone in "Arena of The Street Fighter".
Issac Florentine (Director of Undisputed 2 + 3 and Ninja.) hails the film's star, Mike Möller, as "the European answer to Jet Li and Tony Jaa..." The film features "Some of the most spectacular fights around! These guys know how to deliver top class action" exclaims Scott Adkins (The Expendables 2, Ninja). The non-stop Martial Arts Action is a perfect fit for Martial Arts Show Biz TV, Radio & Magazine's various and well known platforms. Danny Zaino host of Martial Arts Show Biz TV will personally cover some of the key release events during the June 2013 Theatrical release in Los Angeles . He confirms, "We are excited to team with Gorilla in bringing a movie with this level of Martial Arts Action to American Audiences". Danny Zaino in his direct fun loving style says, "This movie won't win an Academy Award, but it's Bitchin'... Love it!" And Gorilla Pictures' founder Bill J. Gottlieb states, "We're thrilled to have Martial Arts Show Biz TV, Radio & Magazine's full-throttle, fun style of story behind the story brand of promotion behind this movie."
The Internationally known Martial Arts History Museum is hosting the VIP Screening event (which is the first preview of the film on the west coast) for Martial Arts school owners and celebrities. The museum's founder and president, Michael Matsuda has endorsed the movie and says, "Arena is the best action import from Germany – EVER – it's Martial Arts at its best and we are very proud to be part of the launch team for this incredible movie!" Don "The Dragon" Wilson (11 time kick-boxing world champion) is co-hosting the VIP Screening event at the museum. Don is passionate about the film as well and says, "If you love action…this movie delivers!"
The film was awarded "Best Action Film" at the Sarasota International Film Festival & continues in Festival competition in April 2013. See the trailer at www.streetfighterthemovie.com.
"Arena of The Street Fighter" hits theatres on Thursday, June 6th with a coast to coast release.
About Gorilla Pictures
Gorilla Pictures was founded in 1999 alongside Gorilla Digital by award winning on-air promotions leader Bill J. Gottlieb with the intent to develop high quality feature films. After an extensive career in commercial writing and production, Gottlieb was well prepared to move into the world of film. Focusing on a combination of action and animation has made for a winning formula for which Gorilla Pictures' films can currently be seen in theaters, as well as in broadcast and on DVD throughout North America and Europe. For more information, visit www.gorillapictures.net.
About Martial Arts Show Biz TV, Radio & Magazine
Full Service Online Multi Media Company for the Martial Arts and Entertainment Industries.
Martial Arts Show Biz TV, Radio and Magazine's goal is to provide the best possible way to reach customers with their powerful media packages that offer Radio, Magazine, TV, explosive E-News Email Campaigns, and Social Media advertisements all designed around clients' advertising needs. Whether you are the Producer of a Movie, TV Show or Commercial, Promoter of a Martial Arts Tournament, Instructional Seminar, Training Conference or Hall of Fame, or a Martial Arts Business that offers products or services to the martial arts community, Martial Arts Show Biz TV, Radio and Magazine can help reach the widest audience. For more information visit: www.martialarts-showbiztv.com. Call 561-575-5425 or email: dz@masbtvradiomag.com.

---

Coming to Theaters June 6th, 2013
---